Martial Arts & Personal Enrichment Training for Kids & Adults!
Tiger-Rock Martial Arts of Bridge City is offering kids and adults in-person, Zoom®, and virtual martial arts lessons!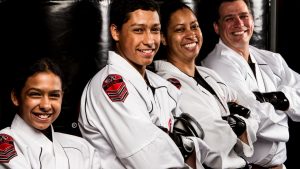 Here's what's included:
Academy Training
Tiger-Rock Martial Arts of Bridge City is now back on at 1955 Miller Drive (FM 408)! We have implemented all recommended guidelines issued by local, state, and federal officials against the coronavirus. We assure you we have a safe, clean, spacious facility that you can safely train at.
ZOOM® Live Lessons
Train at home with our live ZOOM® lessons! You will be able to participate from home just as if you were at our academy! Lesson times and access information will be provided before each lesson.
Virtual Academy
Enjoy 24-hour access to training videos with our Tiger-Rock Virtual Academy. You will still be able to train at your own pace, enjoy challenging activities, and more.